When considering to replace your roof, you will be faced with many different decisions and options. The main thing being the different types of roofing materials that you can choose. From traditional asphalt shingles or wood shakes to aluminum roofing or clay tiles, budget and style will be the primary deciding factors. But you also need to consider below:
8 Factors to Keep in Mind
Before you jump right in and start contacting roofing companies, you will need to consider the factors below to make a wise investment of replacing your roof.



Color & Style
Pleasing to the eye, color, & texture will all make up the appearance of the type of roof you want to install. Roofing options such as natural slate will have limited color options, while the popular option of asphalt shingles comes in many different colors. The main thing to keep in mind is your siding & brick color and how your roof will coordinate with these.



Energy Efficiency (R Value)
Want to save on heating and AC costs? Then you will want a higher R Value in your roofing insulation and roofing materials. The higher the R value the better. This translates to a more energy efficient roof. Asphalt shingles have an R value of around .45 while wooden shakes or shingles carry an R value of .97 or more than double its competitor. Here's a useful R Value calculator for roofs.



Pitch (Angle) of Roof
The pitch of the roof (angle) can be a considerable factor when replacing your roof. The steeper the pitch the higher the cost of the roof installation and what type of roofing material you can use. Some roofs with such a steep pitch are not walkable and support structures have to be used to install the roofing!



Repair vs. Replace
So you have some roof damage, leaks, or some rough patches that need to be repaired? The question is do you repair or replace your roof? While no one can tell you what to do, roofs over 20 years old or dark patches on roofing may indicate the need for replacement. If you're diligent to check your roofing every 2 years you should be able to spot potential damage and repair as needed until age takes over.



Timing, Noise, & Weather
Scheduling your roof replacement can be somewhat tricky. On the one hand, you want to maximize the full life of your current roof, on the other if you wait too long you roof can become compromised causing more structural and foundational damage which will cost more to repair & replace in the long run.
When scheduling your roof installation be sure to let your neighbors know, as the banging can be fairly loud. Also note the weather for potential delays. Rain can be a nuisance, so attempt to plan around it.

Quality Roofing Companies
There is no limit to roofing companies or roofing contractors that can replace your roof. Be sure to do your due diligence when hiring a roofing company and get several references if possible. Also, different companies will have different warranties on both the material and installation.



Get Multiple Estimates
Along with proper research of roofing companies, be sure to get multiple quotes and estimates from different sources. Our site has partnered with a nationwide network of roofing experts. You can get up to 4 free estimates be just filling out a simple form. Enter your zip code to start >>>

Cost & Budget
Replacing your roof is a major investment and can be very costly ranging from $4000 – $40,000+ depending on what type of material you choose and the house you own. Sit down and determine your budget first, then see what is available depending on your budget. You can use our online roofing calculator to get rough estimates on what to expect. Best of luck!
Know the Lingo (Anatomy of a Roof)
Before you dive in and begin talking with contractors and getting estimates, it would help to know the ins & outs of your roofing. Particularly the lingo of roof speak! Below is a simple graphic that outlines the finer details of a roof: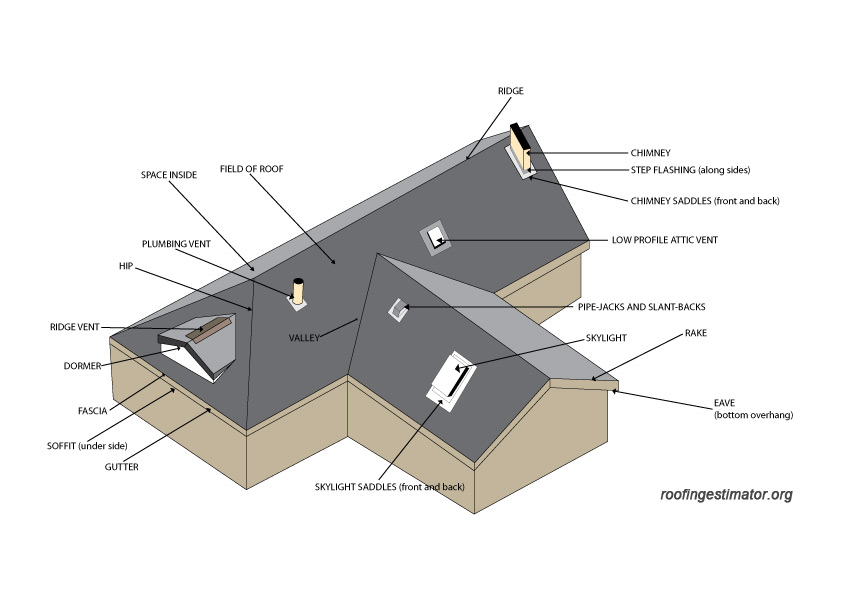 Asphalt shingles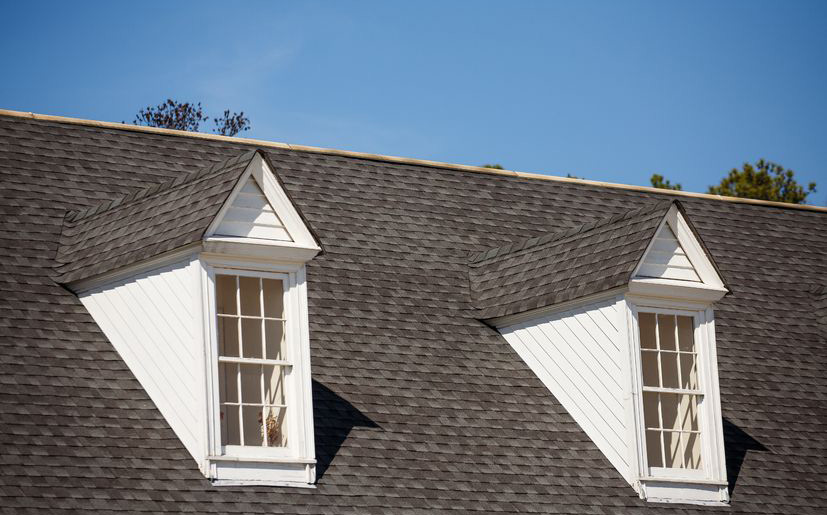 One of the most popular and cheapest roofing options available are asphalt shingles which make over 50% of all residential new roofing installations. Asphalt shingles can be either organic or fiberglass in composition. In both, asphalt is the outer layer of the shingle and the base will be organic material such as wood pulp or paper or fiberglass. Some of the more popular manufacturers of these shingles include CertainTeed, GAF, Owens Corning, & TAMKO.
Whether they are organic or fiberglass, they are 2 types of styles of asphalt shingles: three-tab shingles and laminate or 'architectural shingles'. Three-tab shingles are a single layer shingle with '3' tabs cutout. Architectural shingles have their lower part layered with an additional shingle which gives it a contoured and 3D look and feel when installed. Below are the pros and cons of asphalt shingles.
PROS
Asphalt shingles are the cheapest roofing material available and easy on your wallet, costing $100 – $150 per square. (1 square = 100 sq. feet)
Installing asphalt shingles is very simple, and in some cases a skilled homeowner can go down to home depot, buy the shingles, and install them on their own!
These shingles come in many different color options red, green, blue, brown, grey, etc … as well as in a variety of patterns.
Good fit for steep sloped roofs, and do well with any style of home and roofing.
Lightweight requiring no structural support, unlike heavier roofing materials such as slate.
Spot repairs are easy with shingles, and they are easy to cut and fit.
Finally, for those green conscious, asphalt shingles can be recycled and reused for paving
CONS
Being a cheaper material, they are more susceptible to wind damage and uplift
Ventilation issues in the attic of your home may reduce the lifespan of your shingles
Not recommended to be installed in cold or freezing weather
Extreme temperatures are susceptible to scarring and damage, especially very hot weather
In particular shady areas on a roof, mildew can pose a problem
Not the most durable, typically lasting 10-20 years on average
Finally, these are plain jane shingles, nothing fancy here
Metal Roofing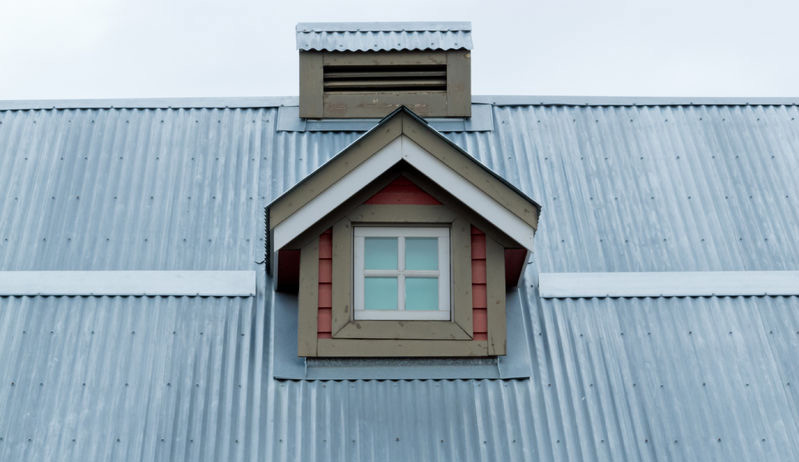 Metal roofing is a very attractive roofing option that has a solid combination of both eco-friendliness and a long-lasting lifespan. Although not that popular amongst residential homes, it is slowly making headway onto main street. According to the Metal Roofing Alliance, an approximate 5 million homes have some type of metal roofing and this number is growing every year.
Metal roofing is made up of of either aluminum, steel, or copper in most residential homes with some zinc alloys on the fringe. Metal roofing comes in rolls that is coated with a rust-proof application then painted to the desired color. Copper with its chemical makeup does not need either coating or paint! Below are the pros and cons of metal roofing.
PROS
Metal roofing comes with a Class A fire rating, this material is fire resistant
With a low R value, metal roofs reflect the sun's heat saving on energy costs
Steel & aluminum make great repellants against rain or snow unlike its competitor asphalt
Metal roofing is long lasting up to 50+ years, so no need to replace in 10 or 20
Comes in a wide variety of styles, metal shakes, shingles, tiles, and panels
Metal comes with long warranties, usually fro 30 – 50 years
Some home insurance companies smile upon metal roofs, due to its hardiness & fire resistant characteristics
CONS
More expensive running from $200 – $800 per square depending on brand & company
Standard metal roofing needs to be repainted every 10-20 years
Although some say a myth, metal roofing will tend to be noisier in rain & hail storms
While fire resistant, this can be a disadvantage, as they pose problems to firefighters when a house is burning!
Tiles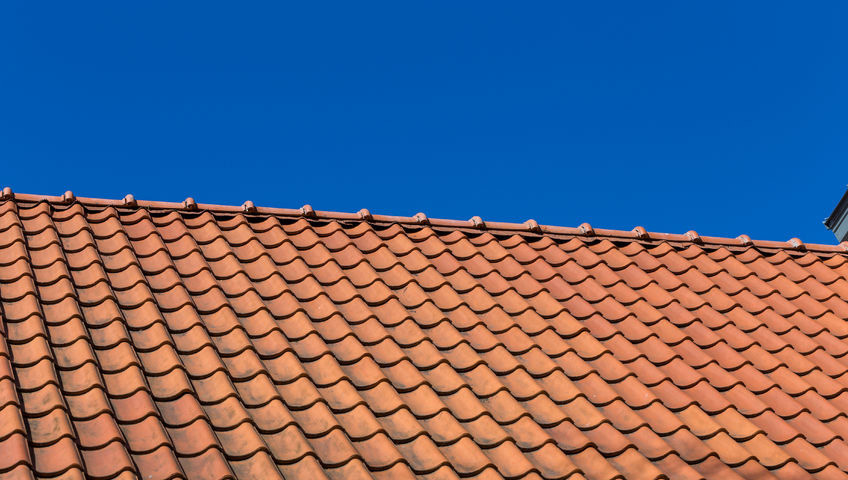 Tile roofing is known for its beauty and aesthetics. Although people tend to shy away because of the cost, there are many advantages to investing in a tile roof. It is
extremely durable and can last a lifetime
along with many different styles & colors. See the image below for the life expectancy of common roofing materials: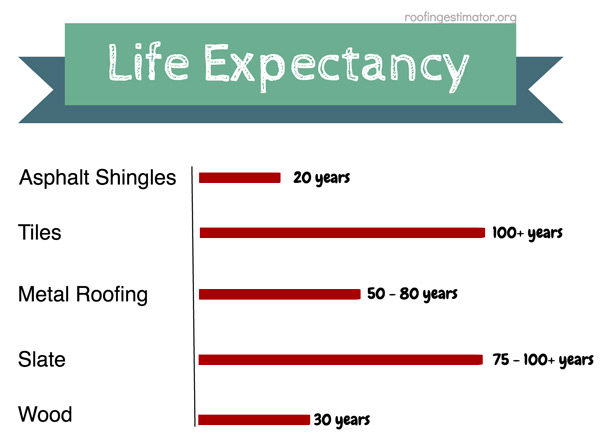 Tiles are either clay or concrete with clay being the more expensive option by about 20-30%. Clay tiles are manufactured with molded clay baked over a period of time which give them a hardened and earthy appearance. Concrete tiles are just that, a mix of sand, water, and cement. You will find clay tiles more used in warmer areas due to potential cracking in sub-zero weather. Below are the pros and cons of tile roofing.
PROS
Tiles are extremely durable and tough not easily damaged.
They can last the lifetime of your home. No more replacing your roof every 20 years!
Resistant to water and bugs if installed properly.
Tile roofing is beautiful and sleek than boring shingles.
Tiles require no repainting or coating of that nature.
Tile roofing can maintain their color, and many come with warranties against fading
CONS
Cost of tile roofing is $700 – $1000 per square (100sq. feet)
Using concrete tiles are heavy and may require additional structure support
While tiles last forever, the underlayment will need replacing every 10-15 years.
Walking on them can be tricky, you will need to leave that to the pros.
Natural Slate Roofing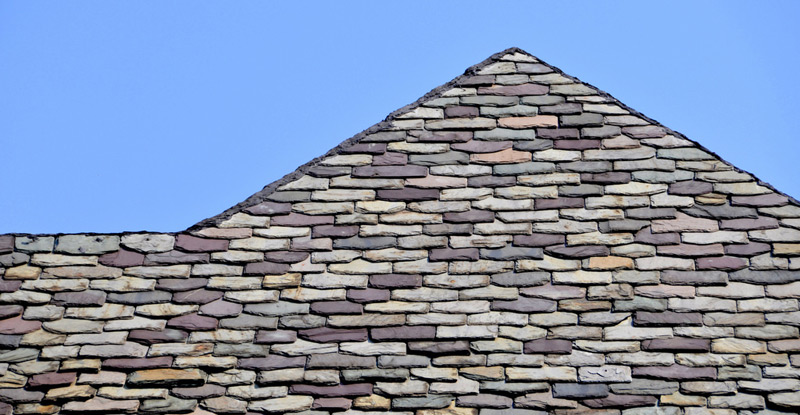 Slate is the cream of the crop when it comes to roofing options. Composed of sedimentary rock, slate has both timeless beauty and a lifespan of centuries. It is said some of the best slate is sourced from Brazil and the United Kingdom. Although the material is not as costly as tiles, its weight and complex installation add up in price making it a costly investment. Below are the pros and cons of slate roofing:
PROS
You can't escape the exquisite beauty that natural slate has. Striking curb appeal!
Slate has a long lifespan, think in generations, well over 100 years.
It's lifespan equals long lasting warranties as well!
Water & fireproof, you will have no problems of mold or water damage.
Very eco-friendly and green, nothing gets wasted or needs to be recycled
CONS
Complex installation, be sure to vet your contractor and their experience in slate roofing
If broken or needs repair, very difficult to find matching slate
No walking on this roof …
Very heavy weight, will need a structural roofing engineer to evaluate your home's ability
Regular maintenance required for potential leaks
Expensive costing around $300 – $700 per square, for just the material alone! With installation well over $1000
Wood Shakes & Shingles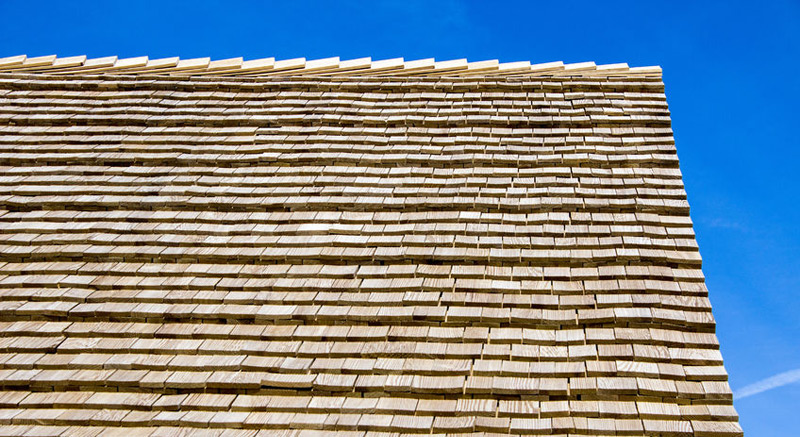 Wood is another classic and natural roofing option for those wanting an amazing & unique exterior. Wood roofing come in either wood shingles or wood shakes, shingles are thinner and have a flat surface, while shakes are somewhat thicker and are handcut with a rough surface. There are several species of wood to choose with cedar being the most popular, as well as cypress, pine, and redwood.
Choosing wood over other materials is very environmentally friendly and it performs really well in a variety of harsh weather conditions. Wood has a a high R value and is almost double that of asphalt shingles making them very energy efficient. A natural wood roof to your home can really boost its value and curb appeal when its time to sale. Below are some advantages and disadvantages of wood roofing:
PROS
Natural, classic, timeless, and rustic look. Cant go wrong with wood roofing for aesthetics!
Last longer than standard asphalt shingles, usually 30+ years before replacement.
Save on home cooling and heating costs with wood's high R value and energy efficiency
Eco-friendly and safe for the environment for those who are green conscious
Cedar roofing is bug resistant
Wind-resistant with high winds up to 200 mph!
CONS
Cost is higher than asphalt, around $400 – $800 per square
Can require more maintenance than composite shingles
Shade from over hanging trees is not good for wooden roofs making it prone to mold
Cant treat them for both anti-mold & anti-fire, must choose one or the other
In wetter climates, too much rain can lead to mold or mildew which is a danger to wood roofing
Flat Roof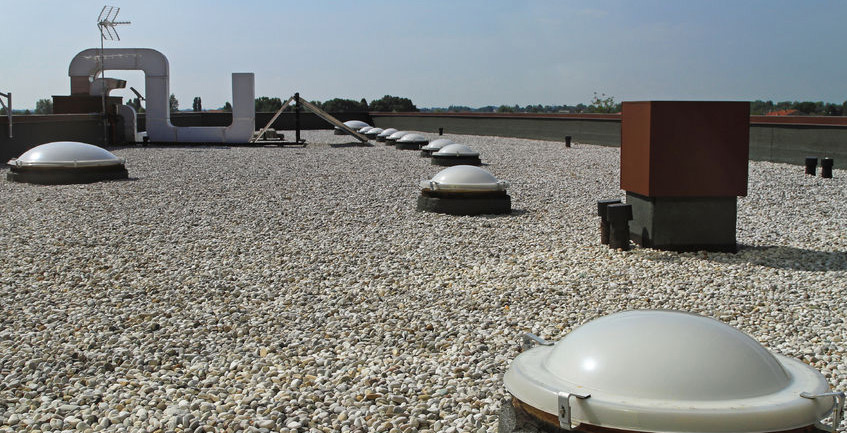 Flat roofing is typically found on commercial buildings, although residential roofs with a low pitch can be seen to have a flat roofing and they are becoming more and more popular alternatives. There are 4 main types of flat roofing: Built-Up-Roof, Modified Bitumen, TPO roofing, and single ply PVC roofing. Built-up roof is your standard tar and gravel flat roofing system, which is a very low cost and somewhat dated kind of roof. Modified bitumen are asphalt roofs with a rubber like look and feel. TPO roofing is made up of thermoplastic polyolefin material, highly waterproof that lasts for a lifetime. Single ply roofing system such as IB PVC roofing is very economical and outlasts many of its flat roofing competitors. Below are the pros and cons of flat roofs:
PROS
Flat roofs make simple installations because its flat, no pitch!
Cost is reasonable due to the cheap installation and materials, ~ $300 per square
Flat roofs make extra storage space as it doesn't impose on internal living!
Easy access and walkable roof
Slight pitch, can improve drainage and build up
CONS
Periodic maintenance for ponding of water and other debris
More prone to leaks which can increase home insurance costs
Lifespan is typically shorter than traditional asphalt shingles